Friday March 27th / 10:00 PM

EASY STAR ALL-STARS

Halogen and positive present easy star all stars! blending musical versatility, instrumental prowess, beautiful vocal harmonies and a premier rhythm section, the easy star all-stars have established themselves as one of the top international reggae acts on the scene today. Thanks to their best-selling tribute album releases, dub side of the moon (2003), radiodread (2006), and easy star's lonely hearts dub band (2009), the remix album dubber side of the moon (2010), as well as original releases until that day ep (2008) and first light (2011), the easy star all-stars have built a growing, dedicated fan base throughout the world, bringing together fans of reggae, classic rock, dub and indie rock into one big family

http://www.easystar.com/
http://www.flynntix.org/see-description/easy-star-all-stars/Details?perfNo=11904&perfCodePrefix=OPP15E
Saturday March 28th / 10:00 PM

HOUSE SHUFFLE DANCE PARTY NO COVER!!

Dance the night away with us under our disco ball! every saturday night in march we will be playing our favorite tunes! 80's 90's hip-hop r&b disco no cover!
Friday April 3rd / 10:00 PM

ON THE SPOT TRIO

On the spot (ots) trio started in 2006 as "a fiercely funky threesome of musicians from santa cruz, ca, determined to take decisive action in espousing the doctrine of soul jazz dance parties across the land. " their inspiration is rooted in 1970's soul jazz and funk, which has been steeped in a millennial soup of rock, jazz, afro beat, and improvisational groove. Alan evans—producer and drummer of soulive—produced and appeared on ots trio's debut album, straight out the garden (2010), and forged a creative bond with ots during these sessions, which resulted in the suction 45rpm (coalmine records, 2012) and shag (2014). In a twist of fate, when evans formed his solo project, the alan evans trio, ots guitarist danny mayer was asked if he wanted to join… join he did, leaving santa cruz for the berkshires, and organist / keyboardist kris yunker followed shortly afterwards, when the alan evans trio became the rock organ trio playonbrother. As evans shifted his focus back to soulive at the end of 2014, mayer and yunker—now both in new england—reformed on the spot trio, fusing their boogaloo and soul jazz roots with a more modern, hard hitting jam band vibe. Now, with a revolving cast of drummers including michaelangelo carubba (turkuaz) and evans himself, on the spot trio will be establishing a base in the northeast and mid-atlantic regions of the u. S. As they slowly work their way back west. Prior to the band's hiatus, they had begun to establish a bit of a following in california, with monthly residencies at such renowned venues as the boom boom room in san francisco and the crepe place in santa cruz, as well as regular touring up-and-down the pacific coast and into colorado. East coast hits surrounded festivals, such as catskill chill music festival, and paved the way for future touring. Ots trio have appeared and performed with dj logic, monophonics, wil blades, 7 come 11, teddy presberg quartet, boca de rio, juno what?!, big sam's funky nation, orgone, particle, ivan neville's dumpstaphunk and many more, as well as innumerable individual members of some of these great bands. 21+ $5

https://www.facebook.com/otstrio
Friday April 10th / 10:00 PM

SOULE MONDE

Soule monde is instrumental, organ-driven funk in its purest form. Erupting from the syncopated minds of power-drummer russ lawton and organ-wizard ray paczkowski, the duo take soul-jazz back to the deep end. Forged off a sound that originated with booker t. And jimmy smith, yet highly influenced by the redeveloped grooves crafted by medeski, martin & wood and the beastie boys, soule monde is the ideal union of swagger and raw talent. Over a decade of touring together as members of the trey anastasio band has fervently cemented these two into an indestructible pocket, and bold improvisational leaps by either player are met by near-telepathic response from the other. These strut-worthy rhythms are further accentuated by a passionate longing for melodic story arcs. So while their songs will make your ass shake like a jello plate on the san andreas fault, they will also take you on a narrative journey of harmonic exploration. 21+ $5

http://www.soulemonde.com/
Friday April 17th / 10:00 PM

BARIKA

From burlington, vt, barika is deep groove music, inspired by the sounds from the wassoulou region of mali. A mesmerizing blend of highly danceable poly rhythmic grooves mixed with ethereal dub-scape, the six-piece ensemble features craig myers ( n'goni) (rubblebucket, mike gordon), caleb bronz (drums)( gordon stone band), rob morse (bass; vorzca trio, anais mitchell, hadestown), andrew moroz ( trombone, keys), will andrews ( trumpet, synth/dub) "led by their grooves, barika is wholly rhythmic, captivating audiences with the beautiful, hypnotic way in which they interweave melody and groove to create something that is not only danceable, but incredibly interesting to listen to. Barika creates a soundscape of funk soaked in psychedelic, west african resonance. " - performer magazine

http://barikamusic.com/
Friday May 1st / 10:00 PM

Big Bang Bhangra Brass Band

Under the direction of noted vermont musician and band leader, brian boyes, the big bang bhangra brass band is one huge party that combines the rich musical and dance roots of indian bhangra, bollywood, new orleans brass bands, and the 1930′s jungle swing of duke ellington and cab calloway. From call and response singing to ripping horn solos, big bang brass fuses the deep funk and swing grooves of new orleans with the centuries-old punjabi bhangra grooves and dance moves reaching back 500 years. The result: a wild and colorful explosion of musical crossroads guaranteed to stir the soul, body, and mind. Topped off with a troupe of bhangra dancers, big bang brass features some of vermont's best funk and jazz players from such favorites as movement of the people, the saturn people's sound collective, viperhouse, 35th parallel, money jungle, and d'moja

https://www.facebook.com/bigbangbhangrabrassband
Friday May 8th / 10:00 PM

GANG OF THIEVES

Gang of thieves' sound and energy is a cross between led zeppelin and the red hot chili peppers, with a funky blast of green mountain soul thrown in the mix. With a live show that will leave you screaming and exhausted from your nose to your rump, these up and coming rock stars will leave you begging for more! gang of thieves is stealing back the spirit of american rock n roll! these legendary vermont rockers bring the funky fury of the northeast with them wherever they go. A national touring act, gang of thieves is coming to you live in support of their new album: thunderfunk, recorded in berkeley, ca with grammy award winning engineer michael rosen (santana, rancid, less than jake). The gang was also recently nominated for "rock act of the year" by the 2013 new england music awards, and best funk group by 7 days "seven daysies" contest. 21+ $5

http://www.thegangofthieves.com/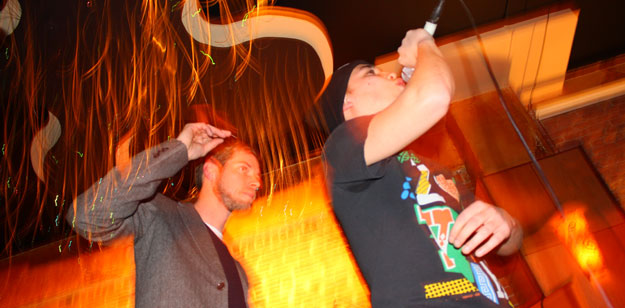 Positive Pie supports the arts and music! Check out the latest line up of Local & National acts here and come to Montpelier, VT and a enjoy a brew and live music!
Looking To Book A Gig?
THE BEER LIST
| | |
| --- | --- |
| STONE BREWING CO. DOUBLE BASTARD | 10.50% ABV |
| ROOKIE'S GINGERBEER | 0.00% ABV |
| JACK'S ABBY HOPONIUS UNION | 6.70% ABV |
| OSKAR BLUES TEN FIDY | 10.50% ABV |
| STONE BREWING CO. OLD GUARDIAN ODD YEAR | 11.00% ABV |
| STONE BREWING CO. SMOKED PORTER W/ CHOCOLATE & ORANGE PEEL | 5.90% ABV |
| HILL FARMSTEAD SUSAN | 6.20% ABV |
| HILL FARMSTEAD EDWARD | 5.20% ABV |
See The Beer List