Friday April 25th / 10:30 PM

The Durians Album Release

An ambitious and highly danceable experiment, recalling sts9 at their most electro, or perhaps daft punk at their most organic - dan bolles, 7days magazine, Burlington, VT. The durian, the spiny, stinky fruit, is both famous and infamous in its native home of south-east asia. Eliciting emotions that range from respect to disgust to adoration, the fruit has earned the nickname, king of fruits, and has been banned in many hotels and public areas due to its smell. No doubt this brash fruit is an appropriate namesake for the brooklyn-based live bass music band, durians. The trios powerful presence and sound are as impressive and unique as the fruits funky odor.

https://www.facebook.com/DuriansMusic
http://www.duriansmusic.com/
Saturday April 26th / 10:30 PM

Grundlefunk

Jazzy casserole fresh from the funk oven. An adventurous group with musical influences as vast as the cosmos, these young musicians bring to the stage the energy and excitement the Vermont music scene has become known for. Featuring members of Serotheft, Potbelly, The Move It Move It, and Dr. Ruckus, Grundlefunk offers up an original blend of catchy tunes painted with funk and jazz hues that could best be described as a cross between Herbie Hancock and Tower of Power. Originally a loosely assembled quartet, Grundlefunk has grown into an 8-piece resonant accoutrement complete with dense horn harmonies, funky bass lines, screaming guitar solos and sensuous vocals. And boy, are they handsome.

https://www.facebook.com/Grundlefunk
Friday May 9th / 10:30 PM

WOMEN OF SONG

Join us for a special evening celebrating female singer-songwritersFeaturing Elle Carpenter, Abby Jenne, and Sara Grace. 21+ $5.
Saturday May 10th / 10:30 PM

APEX

From the grooves of Snarky Puppy and the great San Francisco Bay 60s Funk, to the great arrangements of the San Francisco Jazz Collective Stevie Wonder Project, Originals of Brian Boyes, Freddie Hubbard, Charles Mingus, Chick Corea and others, APEX represents the pinnacle of Instrumental music. Blending the lines between funk, rock, fusion, jazz and even chamber music, APEX is a unique blend and mixture of music as diverse as the musicians performing. Featuring an all star line up of the best Vermont has to offer from groups such as the Big Bang Bhangra Brass Band, Saturn Peoples Sound Collective, Movement of the People, Afinque, Kat Wrights Soul Band, The Grippo Funk Band, Vermont Jazz Ensemble, The Vermont Symphony Orchestra, The Vermont Philharmonic Orchestra, the Montpelier Chamber Orchestra, The Party Crashers and the East Bay Jazz Ensemble. 10 piece APEX is a horn driven musical experience sure to invigorate your mind, body and soul. APEX isDan Liptak Tenor saxophoneSoprano saxophoneBarb Smith Alto saxophoneFluteTom Cate Bari saxophonebass clarinetKevin Avery TrumpetJosh Pauly TrumpetLloyd Dugger TromboneMax Bronstein GuitarJacob Ungerleider Piano and keyboardsBrent Thomas BassNic Cannizzaro Percussion.
Friday May 16th / 10:30 PM

THE MAIN SQUEEZE

The Main Squeeze is a raging funk experience born within the thriving live music scene of Bloomington, Indiana, and currently residing in Chicago, IL. Since coming together in late 2009, the Squeeze have managed to establish a unique sound and identity in a short period of time.

http://www.mainsqueezemusic.com/mainsqueezemusic:squeeze.html
Saturday May 17th / 10:30 PM

SOULE MONDE

Trey Anastasio Band members Russ Lawton and Ray Paczkowskis project Soule Monde is instrumental, organ-driven funk in its purest form. Erupting from the syncopated minds of power-drummer Russ Lawton and organ-wizard Ray Paczkowski, theduo take soul-jazz back to the deep end. Forged off a sound that originated with Booker T. And Jimmy Smith, yet highly influenced by the redeveloped grooves crafted by Medeski, Martin & Wood and The Beastie Boys, Soule Monde is the ideal union of swagger and raw talent. Over a decade of touring together as members of The Trey Anastasio Band has fervently cemented these two into an indestructible pocket, and bold improvisational leaps by either player are met by near-telepathic response from the other. These strut-worthy rhythms are further accentuated by a passionate longing for melodic story arcs. So while their songs will make your ass shake like a Jello plate on the San Andreas Fault, they will also take you on a narrative journey of harmonic exploration.

http://www.soulemonde.com/
Friday May 23rd / 10:30 PM

AFINQUE

AFINQUE (ah-feen-keh) is a 14 piece Classic Salsa Dura band from Burlington, Vermont. Afinque pays tribute to the sound of New York Citys Palladium and Fania eras. The word Afinque is one of many terms used to describe the quality of rhythmic and melodic interaction in Afro Latin music, particularly Salsa. Of these terms afinque means, locked in the groove. ARTISTSMiriam Bernardo, VoiceAndric Severance, Musical DirectorArranger, KeyboardGiovanni Rovetto, BassTwa Mercer, TimbalesScott Dean, ProducerManagementLeader, CongasJohn Thompson Figueroa, Bongo, VoiceJacob Deva Racusin, Percussion, VoiceHugo Martinez Cazon, Percussion, VoiceDavid Purcell, TrumpetKevin Avery, TrumpetJake Whitesell, Alto SaxFluteZach Tonnisson, Tenor SaxMatt Avery, TromboneAndrew Moroz, Trombone.

http://afinquemusic.com/
https://www.facebook.com/afinque/timeline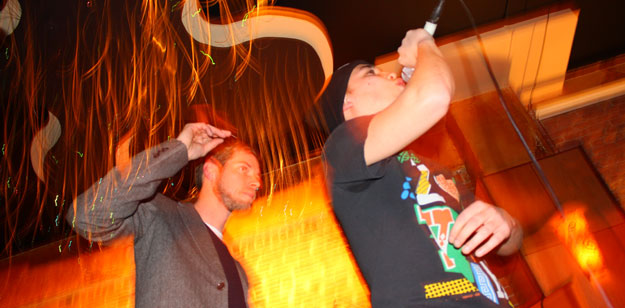 Positive Pie supports the arts and music! Check out the lastest line up of Local & National acts here and come to Montpelier, VT and a enjoy a brew and live music!
Looking To Book A Gig?
THE BEER LIST
| | |
| --- | --- |
| SIXPOINT GORILLA WARFARE | 7.50% ABV |
| LONG TRAIL ALE | 4.60% ABV |
| LOST NATION VERMONT PILSENER | 4.80% ABV |
| BOBCAT DOWNTOWN BROWN | 5.80% ABV |
| Bobcat Prayer Rock Pale | 4.70% ABV |
| Brooklyn Black Chocolate Stout | 10.00% ABV |
| Pabst Blue Ribbon | 4.70% ABV |
| Oxbow Fpa | 6.00% ABV |
See The Beer List