Saturday December 6th / 10:30 PM

HOT NEON MAGIC

80's covers 80's lovers relive the skinny ties, spandex, and synthesizers with vermont's premier 1980s new wave cover band. Rock out to hours of totally awesome tunes from when mtv was king

http://hotneonmagic.com/
Saturday December 20th / 10:00 PM

Sweater Pride- GLAM VT Ugly Sweater Xmas Party

Sweater pride an lgbt-friendly ugly sweater dance party 9-10pm: "amp up your sweater" -accessories available to add on to sweaters -tables for work space and instruction provided by cosmic concepts -ready-made sweaters available for sale, made by glam vermont ($15-20) -featuring dj papi javi (dance/top 40) -drag performances by major face and friends -prizes for ugliest sweaters -pictures with drag santa ages 18+
Tuesday December 23rd / 09:00 AM

WHITE OUT

The biggest party of the year hosted by dj ben arsenal!
Friday December 26th / 10:00 PM

GANG OF THIEVES

Gang of thieves is stealing back the spirit of american rock n roll! these legendary vermont rockers bring the funky fury of the northeast with them wherever they go. A national touring act, gang of thieves is coming to you live in support of their new album: thunderfunk, recorded in berkeley, ca with grammy award winning engineer michael rosen (santana, rancid, less than jake). The gang was also recently nominated for "rock act of the year" by the 2013 new england music awards, and best funk group by 7 days "seven daysies" contest

http://www.thegangofthieves.com/
Friday January 2nd / 10:00 PM

The Lynguistic Civilians

In the fall of 2009 the lynguistic civilians embarked on a journey fueled by perserverence, integrity and ingenuity. In turn walshie steeze, lc, mike fulton and mr. Burns have performed over 250 shows across the north east. With unparalleled lyrics over gargantuan beats the lynguistic civilians have been named "vermont's best hip hop" by seven days and cider magazine as well as "vermont's best un-signed band" by sd. Creating an inviting and engaging live performace the lynguistic civilians cater to all who know how to have a good time. A complete family of mc's and dj's the lynguistic civilians portray just that in the cadence and chaos conveyed in their music

http://www.thelynguisticcivilians.com
Friday January 16th / 10:00 PM

SOULE MONDE

Join our email list social soule monde is instrumental, organ-driven funk in its purest form. Erupting from the syncopated minds of power-drummer russ lawton and organ-wizard ray paczkowski, the duo take soul-jazz back to the deep end. Forged off a sound that originated with booker t. And jimmy smith, yet highly influenced by the redeveloped grooves crafted by medeski, martin & wood and the beastie boys, soule monde is the ideal union of swagger and raw talent. Over a decade of touring together as members of the trey anastasio band has fervently cemented these two into an indestructible pocket, and bold improvisational leaps by either player are met by near-telepathic response from the other. These strut-worthy rhythms are further accentuated by a passionate longing for melodic story arcs. So while their songs will make your ass shake like a jello plate on the san andreas fault, they will also take you on a narrative journey of harmonic exploration. Paczkowski has an intrepid knowledge of the hammond b3, playing it as fearlessly as han solo flies the millennium falcon through an asteroid field. Meanwhile, his left hand lays down bass lines on the clavinet with the ferocity of the meanest four-string, soul-cat. Lawton is constantly responding to his partner's attacks – pushing the groove further and deeper, whilst still holding the pocket like he's handcuffed to the snare. Don't ever expect the beat to drop with soule monde, and at the same time don't expect to get stuck in one groove. This is fluid funk, crafted for the dance floor but supported by an extensive grasp of jazz improvisation. Quite simply, this is the jazz-duo your parents warned you about. Russ lawton has been a staple of the vermont music scene for years. He's collaborated with a vast array of vt acts, including mike gordon, the grippo funk band, and strangefolk, and has been touring and recording with t. A. B. Since 1998. He's credited with co-writing the grammy-nominated song "first tube" which appeared on phish's 2000 album, farmhouse. Ray paczkowski has been involved with a number of lauded acts over the years, first gaining recognition in the mid 90's as a member of the legendary vermont act, viperhouse, and later on with his power trio, vorcza. He toured and recorded with dave matthews & friends for 3 years, and has been the keyboardist for t. A. B. Since 2001

http://www.soulemonde.com/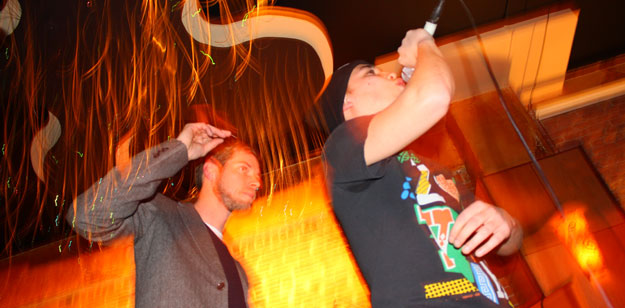 Positive Pie supports the arts and music! Check out the latest line up of Local & National acts here and come to Montpelier, VT and a enjoy a brew and live music!
Looking To Book A Gig?
THE BEER LIST
| | |
| --- | --- |
| SMUTTYNOSE/STONE CLUSTER'S LAST STAND | 8.30% ABV |
| PABST BLUE RIBBON | 4.70% ABV |
| DOWNEAST CIDER CRANBERRY BLEND | 5.00% ABV |
| DOWNEAST CIDER ORIGINAL BLEND | 5.10% ABV |
| NEW HOLLAND THE CARHARTT WOODSMAN | 4.50% ABV |
| DIEU DU CIEL! APHRODISIAQUE | 6.50% ABV |
| CITIZEN CIDER bROSé | 6.80% ABV |
| CITIZEN CIDER DIRTY MAYOR | 6.80% ABV |
See The Beer List