Friday May 8th / 10:00 PM
Rock & Roll / 21+ / $5

GANG OF THIEVES

Gang of thieves' sound and energy is a cross between led zeppelin and the red hot chili peppers, with a funky blast of green mountain soul thrown in the mix. With a live show that will leave you screaming and exhausted from your nose to your rump, these up and coming rock stars will leave you begging for more! gang of thieves is stealing back the spirit of american rock n roll! these legendary vermont rockers bring the funky fury of the northeast with them wherever they go. A national touring act, gang of thieves is coming to you live in support of their new album: thunderfunk, recorded in berkeley, ca with grammy award winning engineer michael rosen (santana, rancid, less than jake). The gang was also recently nominated for "rock act of the year" by the 2013 new england music awards, and best funk group by 7 days "seven daysies" contest. 21+ $5

http://www.thegangofthieves.com/
Friday May 15th / 10:00 PM
House / GA / $10

THE ELECTROLADS WITH THE HUMAN CANVAS

There was a recent moment in time that a spark was created. Four human souls came together in fusion to create fire. Their main intention is to collectively promote love. Their main care is for their fans to align themselves with their essential beings inside themselves and take the risk to connect with others in an undistorted way through dance. If their fans can challenge themselves to go there, then the electrolads see the potentiality for fusion and unification to occur for everyone that is attending their performance…and walk away filled. They see no other purpose higher than this. They create an intentional space and they encourage people to go deep in trance to their deep house and tech house grooves. Let transformation happen and dance your $#% off! body painting artist kadina dinash & dj frank grymes what began as a body art revolution in vermont is now an nationally known creative performance duo consisting of dj frank grymes and live body painting artist kadina dinash plus guest models/performers. Body painting artist dinash captivates your imagination through visual art on a live canvas, while her partner dj frank grymes plays a mix of electronic,dance, funky,house,experimental and selected world music

https://www.facebook.com/electrolads
http://thehumancanvas.wix.com/thc
Friday May 22nd / 10:00 PM


THe Holter Brothers

The holter brothers perform a > timeless mix of funk and rock songs! hailing from los > angeles ca these real deal rockers are now transplants to > the new england area. . ! ripping it up on nightclub and > festival stages they keep the crowd rockin and begging for > more. . ! playing hits from the red hot chillipeppers and daft > punk to sublime and the doors. . ! they cover all the bases so > don't miss the holter bro's when they come to a venue or > city near you. . !
Friday May 29th / 10:00 PM
Funk / 21+ / $5

FUNKWAGON With BINGER

Funkwagon is a gospel infused funk band based in burlington, vt. The band was formed in 2005 by aaron burroughs and has since played all over the north east, capturing crowds and having the honor of sharing the stage with some of music's greats. I like to think of it as church with a smoker's section. . . And a bar, says burroughs!

https://www.facebook.com/funkwagonvt
https://www.facebook.com/Binger01/timeline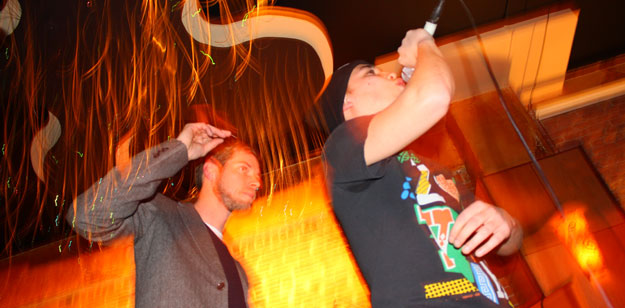 Positive Pie supports the arts and music! Check out the latest line up of Local & National acts here and come to Montpelier, VT and a enjoy a brew and live music!
Looking To Book A Gig?
THE BEER LIST
| | |
| --- | --- |
| KIS KOMBUCHA | 0.50% ABV |
| FOUNDERS BREWING CO. KENTUCKY BREAKFAST STOUT | 11.20% ABV |
| STONE BREWING CO. DELICIOUS IPA | 7.70% ABV |
| STONE BREWING CO. DOUBLE BASTARD | 10.50% ABV |
| ROOKIE'S GINGERBEER | 0.00% ABV |
| OSKAR BLUES PINNER THROWBACK IPA | 4.90% ABV |
| OSKAR BLUES TEN FIDY | 10.50% ABV |
| TWO ROADS WORKER'S COMP SAISON | 4.80% ABV |
See The Beer List